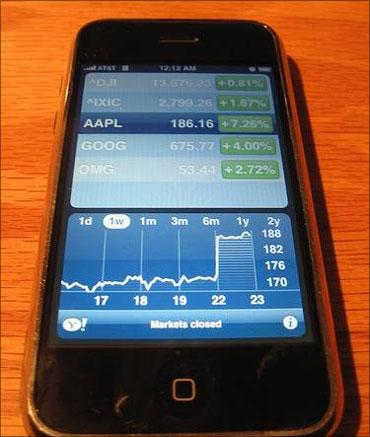 It's been just nine months since the Securities and Exchange Board of India (Sebi) gave its nod to mobile trading. But the trend has caught up with trades through uniform resource locator (URL)- and wireless application protocol-based systems.
"With mobile penetration reaching around 700 million users, against 100 million people using the internet, it makes sense we develop a mobile app that will facilitate trading for a wider set of public," says Abhay Sinha, COO - India, South Asia, ME, Africa and CIS - Dion Global Solutions.
Earlier known as Religare Technova, the company has launched TradeExpress, an application built on a wireless platform solution, and helps users to look at market watch, open trading windows, place orders, etc. Sinha says, "We have clients from Motilal Oswal to Standard Chartered, and depending on the number of users and trade volumes, we quote a price to facilitate mobile trading. This can vary between Rs 10 lakh to Rs 25-30 lakh."
For mobile trading, a trader needs a general packet radio service-enabled cell. Most brokerages have already launched, or are planning to launch, portals for trading through BlackBerry and Apple iPad. While the trader has to pay the mobile service provider for downloading the application, brokerages have to pay the technology developer on the basis of trade volumes. But the charge is small, considering the growth in volumes brokerages claim to be witnessing.
"Every day, we do trades of around Rs 1,000 crore through the online platform. And, that is after the platform has been used since the past five-six years. But mobile trading is catching up quickly. It accounts for Rs 12-15 crore of trades on our site. We are excited about its future," says Vinay Agrawal, executive director - equity broking, Angel Broking. It was the first company to launch an application-based trading platform last October. One has to either download the application from the website of the brokerage or get the link over an SMS. Meanwhile, Angel's application is available for even Java-enabled handsets.
The complexity of the platform, however, continues. While orders can be placed using the mobile trading platform, any order that doesn't get through because of network problems is not the brokerage's responsibility. Also, most brokerages don't allow clients to pay through mobile using m-banking. The clients are required to have online accounts. A few brokerages do allow mobile payment, but Sebi has capped it at a small amount.
Players like Motilal Oswal have thus developed several variants of trading platforms. The brokerage has about 640,000 customers who have access to its trading platforms. In the past six months, according to data available, it clocked 60,000 trades on its mobile platform. "We decided to host a mobile-friendly application on the web, where one just needs to type the URL on his handset, as it can then cater to a much larger client base across mobile platforms," says Naveen Bachwani, senior VP and head (business solutions & innovation), Motilal Oswal Securities. So, if a handset is stolen, the client's trading history remains safe, as there's no data saved in it.
Security issues are specifically addressed while developing the trading platform. Quality testing is done several times just to make sure that the client faces no setback due to the application, or back-end problems.
"Lack of a clear mandate on the use of mobile trading, availability of limited cellular bandwidth and connectivity, and devices with limited capabilities were some major hurdles initially," points out a senior Financial Technologies' (FTIL) official.
FTIL had launched two mobile trading technologies in 2006. iWin was developed to work on all mobile operating systems like Android, Symbian, Windows & BlackBerry OS, while Net.Net was developed using web development tools from Microsoft. FTIL has 225 clients who use these applications in all asset classes such as equities, derivatives, commodities and currency.
Orginal Article by VAS