Well back to the same old story. Is Blogger better or Wordpress. I have Blogs on both the sites. I am running a general personal blog on blogger - http://daavpani.blogspot.com/ and my this site - http://www.monline.in is made and developed in Wordpress.
Thus I was looking for a comparison between both of them and here I found a wonderful article at http://pulsed.blogspot.com/2007/07/blogger-wordpress-chart.html by kPulsed. Check
My personal conclusion: Blogger is good if you have a non-commercial blog/website. But if you having a domain name and hosting and want to host your blog and site then Wordpress has the upper hand. Thus check it out and decide you self as what fit for you.
- Vivek Bhalavat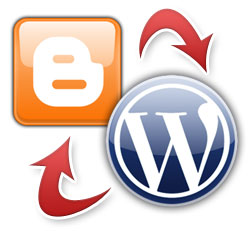 In the following chart features at Blogger (blogspot.com) and Wordpress.com are compared. These are the two main contenders for free blog hosting. Features which are clearly better at either BlogSpot or Wordpress have been highlighted. Widgets are listed in another summary table after the features list. If you have your own website with PHP/MySQL support, you can download and use WordPress with no restrictions (get it here).
Updated June 2011.
Feature
Blogger.com
Wordpress.com
Themes and customization
Blogger has introduced a collection of easy-to-customize templates with Google Web Fonts. Earlier templates can still be edited, but don't have all the features. New: Mobile Templates.
No template editing. Style sheet editing is only available as a paid upgrade. Many of the 100+ themes let you upload a header image. Some have additional customization options.
Visitor stats
Built-in dashboard stats (more info). You can also include third party tracker scripts — or any type of script.
No scripts allowed. The admin dashboard shows 2 days of stats and daily, weekly and monthly charts.
Import
Only from another BlogSpot blog.
Import from Blogger, Yahoo! 360, Type·Pad, MovabIe·Type, Blogli, Israblog, Posterous, Vox.com, Live·JournaI or another WordPress blog.
Image storage
1 Gigabyte. There is no interface to browse through the images unless you sign up for Picasa Web Albums.
3 Gigabytes. Paid upgrades are available to add more space.
You can also upload .ppt, .doc, .odt and .pdf files (more file types with an upgrade).
Galleries
You can use Picasa Web Albums.
Simply add the tag to any post or page (more info).
Static pages
Blogger allows up to 10 static pages to be created (more info).
Create posts or 'pages'. Static pages are listed in separate menus.
Categories
'Labels'.
'Categories'.
Post excerpts
Expandable post excerpts (more info).
Post excerpts with a "more" tag.
Post by email
Submit your posts by email. You can receive new posts by email too (helpful for team blogs).
Submit your posts by email. Images can be attached (more info).
Contact forms
Not available. You could add a third-party contact form, however.
Simply add the tag
[contact-form]
to any post or page or use advanced features.
Domain names
Free domain name mapping (more info).
A paid upgrade is required to map a custom domain.
Private blogs
You can restrict access to invited Google account holders.
You can restrict access to 35 invited Wordpress account holders (unlimited with a paid upgrade).

Alternatively, individual posts can be password protected or Private.

Team blogs
Administrators and non-administrators only.
Administrator, Editors, Authors & Contributors. Option to receive post changes by email.
Comments
Visual confirmation, spam filtering and moderation options, but no editing of comments.
Moderation, comment editing and Akismet spam protection.
Widgets
See the next table.
Blogger comments:
Visitors can preview comments. They can also choose to receive follow-up comments by email. However, the embedded Comment Form option is entirely dependent on JavaScript. Spam filtering is now available as an alternative to moderating every comment.
Wordpress comments:
In 2009 Wordpress.com added follow-ups by email and comment threading options. Wordpress has more comment options than Blogger, but there have been problems with Akismet spam protection. See this post on the WP user forum...
http://en.forums.wordpress.com/topic.php?id=16584

Widgets compared:
BlogSpot Widgets
Description
Add a Gadget
Software applications that do cool things. There's an extensive menu in the sidebar.
Popular Posts
Displays a list of popular posts on your blog.
Blog stats
Displays your blog's visitor count.
Pages
Displays a list of stand-alone pages on your blog. You can create up to 10 pages.
Followers
Displays a list of users who follow your blog.
Search Box
Search over your blog, your blogroll and everything you've linked to.
HTML/JavaScript
Add third-party functionality or other code to your blog. [ i.e., any third-party widget]
Text
Add some words to your blog - like a welcome message - with our rich text editor.
AdSense
Earn revenue by displaying relevant ads on your blog.
Picture
[for the sidebar]
Add a picture from your computer or from somewhere else on the web.
Slideshow
Add a slideshow of your photos to your blog.
Video Bar
Clips from YouTube and Google Video for readers to watch without leaving the page.
Poll
Survey your visitors by adding a poll.
Blog List
Show off what you read with a blogroll of your favourite blogs.
Link List
Add a collection of your favourite sites, blogs or web pages.
List
Add a list of your favourite books, films or anything you like.
Feed
Add content from an RSS or Atom feed to your blog.
Newsreel
Automatically add current headlines from Google News to your blog. (see an example)
Labels [categories]
Show all the labels of posts in your blog.
Subscription Links
Let your readers easily subscribe to your blog with popular feed readers.
Logo
Choose from a variety of Blogger logos to add to your page.
Profile
Display information about yourself.
[Wordpress blogs have an "About" page]
Blog Archive
Display links to older posts.
Page Header
Display your blog's title and description.
Wordpress.com Widgets
Akismet | Archives | Authors | Author Grid | Blog Stats | Blog Subscriptions | Box.net file sharing | Calendar | Categories | Category cloud | del.icio.us | Flickr | Gravatar | Image | Links | Meebo | Meta | Pages | Recent Comments | Recent Posts | RSS | RSS Links| Search | SocialVibe | Tag Cloud | Text | Top Clicks | Top Posts | Top Rated | Twitter | Vod:Pod Videos
In addition, WordPress shortcodes are widgets for individual posts.
Theme choices
Blogger has introduced new, easy-to-customize templates. Earlier templates can be modified, or you can install a third party theme. Make sure that third party themes have the latest layout tags.
Although the Wordpress.com collection of 100+ themes sounds like a lot, finding features you might want is a challenge. Customization options are limited unless you pay for an upgrade that allows stylesheet editing. Wordpress.com uses a scheme called Typekit for changing fonts, while Blogger offers a straightforward method to choose between standard fonts (in addition to standard fonts there are Google Web Fonts). Both systems have Mobile Templates.
WordPress theme browser: http://theme.wordpress.com/themes/

Ongoing improvements
The WordPress team frequently add new features and themes, and since the new BlogSpot publishing system was rolled out in 2006, the Blogger software team have added new features too. Visit the developer blogs to find out what's new:
Conclusion
In 2007, I wanted to find out what was on offer in terms of free blog hosting. Before that, Blogger was looking stale, and Wordpress.com didn't have nearly as many themes or features as it does now. I chose Blogger, and this was my first post. If Wordpress.com allowed stylesheet editing without having to pay, and visitor stats comparable to the tracker scripts you can obtain for free, my choice would have been Wordpress.com for sure.